Proposing a redesign for a worldwide-known information platform about the fashion industry.
Project
Digital platform redesign concept
Design & Art Direction
Alice Chachka
Design areas
UI/UX, responsive web design, art direction
Imagery
Not owned / Not used in a commercial way. Used for demonstration purpose only.
This self-initiated project is my redesign proposal for an information platform about the fashion industry called Fashion Network. The reason behind doing this project was to exercise my skills in using Adobe XD and to improve my UI/UX skills.
​
Main objectives
–Optimise the website structure
–Modernise appearance and UX
–Develop brand identity
​
In this project, I focused on the website restructuring, improving usability as well as developing the visual identity for the platform. Fashion Network also has a sub-website called Fashion Jobs and I wanted to add more value and recognition to it by giving it its own homepage and make it clear that this is a full-fledged site not just another page on Fashion Network.
​
I focused on three sections of the platform: News, Fashion Show Galleries and Fashion Jobs. I also have redesigned the 'Candidate area' (User profile) page and the newsletter subscription sign-up experience.
​
​
Fashion Network: News section preview demo
Fashion Network: Newsletter Subscription pop-up demo
Fashion Network: News article to 'All articles' demo
Preview + action button + text description UI elements form 'blocks' followed by the connecting line elements.
'The Block Concept'
​
​
​
Fashion Network: 'Fashion Week' section preview demo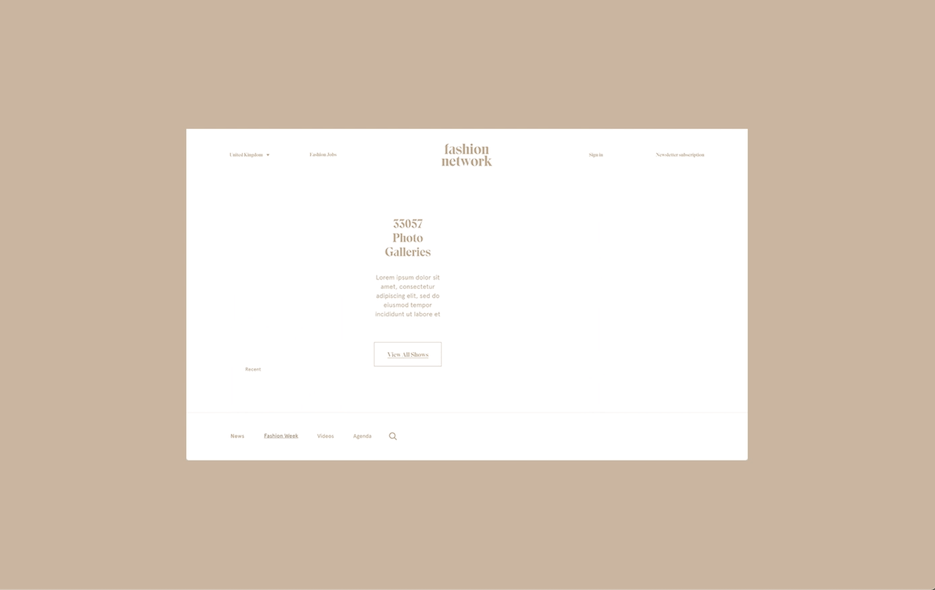 Fashion Network: 'Fashion Week' section preview to a Fashion Show Gallery transition demo
Fashion Jobs: Homepage to 'All Jobs' demo